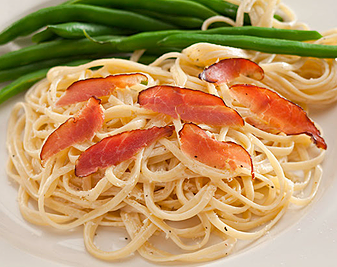 Fettucine featuring Thibodeaux's tasso.
In Acadiana, when something tastes good we say, "C'est bon." But when something tastes truly great, we satisfyingly exclaim, "Ca c'est bon!"
Which is often heard shortly after tasting any of the fine, Acadiana products
of Thibodeaux's Cajun Foods.

Our family owned company still makes classic Cajun ingredients the
way our founders, Ophie and Wanda Thibodeaux, did so many years
ago – with experience that only comes with time – in our hometown of Opelousas, Louisiana.

Our spicy, bold Andouille sausage, perfectly seasoned Boudin, and lean, hickory smoked Tasso have all become staple ingredients for preparing
classic South Louisiana dishes, as well as the delicious creations of
Louisiana Nouvelle cuisine.

Thibodeaux's Cajun Foods takes genuine pride in providing products that
bring the Cajun joie de vivre to any foodservice establishment while
providing the consistency, flavor, and quality that all great cooks expect.