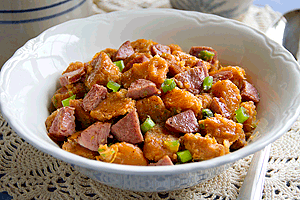 INGREDIENTS

1 Tablespoon of Canola oil
8 ounces of Thibodeaux's Andouille sausage, diced
Pinch of ground cinnamon
1 pound of sweet potatoes, peeled and diced
½ cup of yellow onion, diced
¼ cup of bell pepper, diced
Salt & Pepper, to taste
¼ cup of green onions, sliced
DIRECTIONS

In a cast iron skillet, heat the oil and brown the Andouille over
medium heat. Add the cinnamon and mix. Add the sweet potato,
onion, and pepper and stir well. Continue to cook, stirring often,
until the sweet potato is tender and cooked through, about
10 – 15 minutes. Season with salt and pepper, and then mix in
the green onions just before serving.