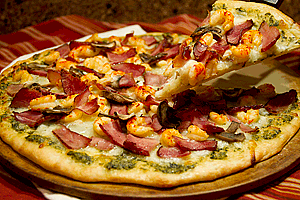 INGREDIENTS

1 ten to twelve inch pizza dough
2 Tablespoons of Pesto sauce
1 pound of Louisiana crawfish tails, drained well
(Mais, save that crawfish fat cher!)
10 ounces of Thibodeaux's Tasso, shaved
1 cup of Mozzarella cheese, shredded
½ cup of sliced mushrooms
DIRECTIONS

Preheat oven to 450 degrees with pizza stone. Place the
dough on a floured board and spread the Pesto sauce evenly.
Next, sprinkle the Mozzarella evenly, working from the center.
Now add the crawfish tails and Tasso then top it off with
mushrooms. Bake for about 6 – 8 minutes and allow to cool
for a few minutes before devouring.