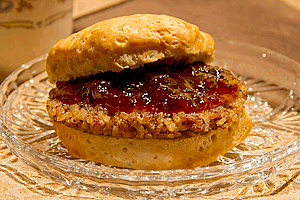 INGREDIENTS

1 pound of Thibodeaux's Boudin
2 Tablespoons of butter
4 freshly baked biscuits, halved
¼ cup of fig preserves
DIRECTIONS

In a cast iron skillet, heat the butter over medium-high heat.
Meanwhile, remove the Boudin from its casing and form into
four-ounce patties, about the same diameter of the biscuits.
Lower heat to medium and carefully place the Boudin patties
in the skillet. Brown them for 1½ minutes on each side.
Meanwhile, spread each biscuit with about a tablespoon of
fig preserves. Place Boudin on a biscuit bottom, top it off
with the other half, and eat up!